Obedience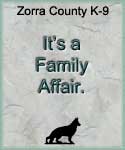 OBEDIENCE CLASSES
General Information

This information applies to all our courses.
For their own protection, all dogs must have all their shots before attending classes.
Each course is 6 weeks in length.
The cost for the 6 week course is $120 (incl GST & HST).
Private training is $50 an hour.
This class is for dogs 3 to 6 months of age.
socialization with other dogs and other people
addressing common behaviour problems(house breaking, nipping, jumping up, crate training etc.)
sit/down
sit/down stay
come on command
walk nicely on leash
imprinting on attention and retrieving
introduction to agility obstacles to help build confidence and teamwork
This class is for dogs 7 months and older that have completed puppy class or have some basic skills in obedience.
random sits/downs
sit/down stay at a distance with distractions
come and sit in front
stand
introduction to heeling
attention with mild distractions
imprinting retrieves
introduction/continue to build confidence and teamwork through agility obstacles
This class is for dogs all dogs and owners of all ages that wish to expand on all exercises learned from the previous classes.
heeling with automatic sits
sit/down stay off leash with distractions
turns while heeling (left, right, about, circles)
call to heel position
retrieving with front
come on command with front
stand/stay
finish (left or right)
minor agility sequencing
This class is for dogs and owners wishing to fine tune all aspects of their training.
attention with distraction
sit/down stay out of sight
formal recall with finish
heeling (1/4 turns, 360 turns, left about turns, figure 8, off leash control, footwork)
sit/down in motion
stand for exam